2016 Practice Greenhealth Sustainability Benchmark Report Available Online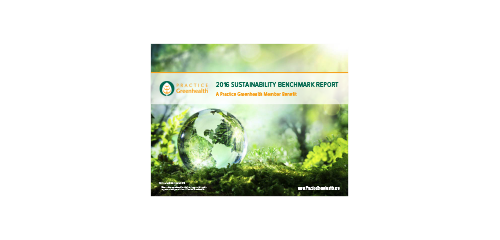 The 2016 Environmental Excellence Awards Sustainability Benchmark Report analyzes data from leading hospitals and health systems across the country, giving a snapshot of trends in environmental performance and sustainability in energy, water, toxics, food and other categories. Practice Greenhealth first reported on the environmental performance of its members in 2008. This report is based on data supplied in applications by a total of 322 hospitals that participated in Practice Greenhealth's 2016 Environmental Excellence Awards.
The Benchmark Report is the only report that shows comprehensive data illustrating the progress of sustainability across the health care sector. The report analyzes data provided by health care facilities of various types and sizes located across the country. In addition to reporting out on metrics, the report shares sustainability trends and emerging areas of focus. Access to the complete Benchmark Report is an exclusive benefit of membership in Practice Greenhealth.
---
Practice Greenhealth's Sustainability Benchmark Report Shows Strong Progress in Environmental Performance Among Nation's Leading Hospitals
A Practice Greenhealth press release provides further insight into the report's health care sustainability trends across key areas: green purchasing, safer chemicals, climate change mitigation, energy and waste reduction, as well as local and sustainable food. (Continue Reading)
---
If you are not a Practice Greenhealth member, you can still purchase the Benchmark Report through a new subscription program. If you are interested in purchasing the Benchmark Report, please contact Peggy Rademaker, Membership Operations Manager, at prademaker@practicegreenhealth.org.